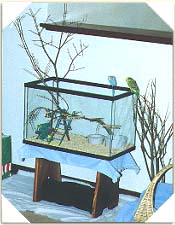 Our birdie friends bob at us but don't tilt their heads to kissybeak! Wonder why?

No-Al = normal green (See my pretty yellow breast stripe?)
Holly = skyblue (Obviously hormonal - now my cere is bluish-white)

We seldom leave our unique 'cage'. If Karen is playing with us and we want to go home, we climb the basket handle to the branches and go to our house!